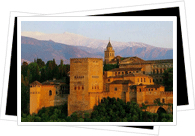 Introduction
If you have decided to go from Malaga to Granada you will not be disappointed, it boasts a rich Islamic culture that history has not forgotten and can be admired through many of the significant pieces of art and architecture around the city. If winter sports catches your interest then you aren't far away from geting involved at Sierra Nevada. Either way at the end of a long day you can jump into the exciting and refreshing atmosphere filled with great bars and clubs.
The main place to be!
As mentioned Granada has a lasting influence of the elegant islamic culture and what better place to see this than in Alhambra, it is known as the red fortress which is translated from Arabic. It was constructed within the 14th century and considering this it is in great nick. Though it would be a wise idea to get down there during the morning or later towards close to avoid the majority of the crowds (For all those picture perfect moments). Two notable buildings within this fortress are Palacio Nazaries and Alcazaba.
For an alternative religious site you can visit the stunning Capilla Real, the royal chapel that is a prime example of christian gothic archtecture, it was completed in 1521 with a complimentive museum attached that although rather small packs a big punch (metaphorically of course)
As mentioned if your looking for captivating art then the façade on Corral del Carbon the 14th century inn will be right down your street. Originally used for merchants it was later used as a coal inn hense the widely recognized nickname of 'coal yard.'
Festival and shopping
Its worth mentioning the festival named Feria de Corpus Christi, which is an infusion of faregrounds, bullfights and but of course drinking! If you need to make a dash to pick up some souvenirs then head down to Plaza Bib Rambla, a quaint mix of shops that will provide you with any little bits and bobs that you may require.