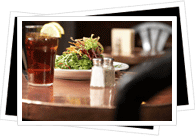 The Malagueños love their food and you can see that from the many restaurants, "chiringuitos" (beach cafes) and pubs. Featuring typically Spanish-Mediterranean dishes, Malaga's cuisine is light and nutritious. Just as you will find in every facet of Malaga's culture, in its cuisine you will find a rich blend of the traditional and the innovative.
Traditional Spanish Mediterranean recipes have been refined to perfection while remaining faithful to its culinary heritage. There are also more novel and creative approaches to these traditional recipes that make for an exciting gastronomic experience.
As a coastal town, Malaga's main specialties are fish in all varieties: red mullet, whiting, sole, and fresh anchovies are just some of the kinds you'll find in abundance at the markets. Other seafood, such as lobster and baby squid, is also popular. If you find yourself wondering how the seafood here tastes so good, the answer is because it's always freshly caught. Be sure to try sardines grilled on bamboo spits over charcoal, a Malaga favorite.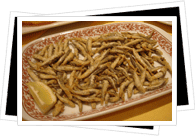 Pescaito Frito
This dish of fish, deep-fried in batter, is Malaga's claim to fame and is acknowledged to be the best in Spain. With the pescaito frito, you have crisp and juicy fish cooked just right. Get a whiff of its aroma and you will surely follow it to the many chiringuitos that serve it.
Tapas
Taste just about everything with tapas. This traditional Andalusian treat is actually made up of small portions of food made of many different dishes. "Tapas" literally means "lids," which comes from the notion of placing a saucer, or a "tapa," on top of your drink to keep the flies out. Part of the enjoyment of tapas is socializing with other tourists and locals while standing at the bar.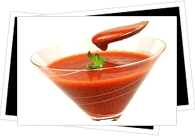 Gazpacho
A refreshing soup that is best eaten during hot summer days and eating al fresco. This cold vegetable soup has many varieties; one example is the ajo blanco, which is made with grapes, almonds and garlic.
Sweets and Ice Cream
Sweets in Malaga are heavily loaded with almonds and honey, thanks to the region's Moorish influence. Polverones are must-tries, as are Alfajores, whose name promises something that "tastes good." Be sure not to miss Malaga's ice cream- a tasty way to top off a day at the beach.
Malaga Wines
Malaga produces some of the best wines every year. You can visit bodegas (pubs) where you can try sweet Malaga wine (Falstaff's "sack") dispensed straight from the barrel.
Rabo de Toro a la Rondeña
Bull's tail cooked in the tradition of the town of Ronda, best eaten with ronda style baked beans.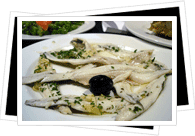 Boquerones "vitorianos"
Genuinely fresh anchovies.
Adobo
Fish marinated with wine and then fried. Truly delectable!
Of course, you can also find international cuisine in Malaga. The variation of restaurants is simply amazing. Combining this with the experience of dining in spacious "terrazas" (terraces) with the balmy sea air gently blowing through your hair makes dining in Malaga an exquisite pleasure.