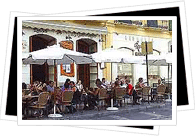 Malaga is a food lover's haven. The fact that the Malagueños are food devotees is proven by the sheer number and variety of restaurants, cafes and bars. Restaurants and bars are where you can really socialize with locals and tourists alike.
Because of its geographic and cultural position as the gateway to the Costa del Sol, Malaga really has an expansive array of ways to appreciate and understand food. You may visit a typical Malaga restaurant, go for international cuisine, or try the ever-famous Spanish tapas. There are also diverse cafés and restaurants perfect if you're dining on a budget.
One thing is guaranteed: after a delicious and hearty meal, you'll be able to take a deep breath and say, "My stomach is one happy place!"
Learn more!