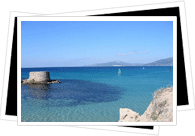 Introduction
When you are travelling you should think travel Tarifa, it offers a haven for water sport enthusiasts especially kite and wind surfers, so pack up your kit and get yourself pumped for lots of adrenalin filled fun! Whilst you are in Tarifa there is always something interesting to do including more relaxing alternatives if extreme sports are not your cup of tea. The name Tarifa is taken from Tariq Ibn Malik who lead the muslim invasion during 710.
Where to go
If your looking for a taste of the cultural history of Tarifa then be sure to check out the prestigious Castillo De Guzman, a castle which is over 800 years old. It was most notably defended against the Moors during the Reconquista where Alonso Perez de Guzman recieved his title 'the good' and where his own son was executed when he refused to surrender.
Water sports
If you have your water sports gear ready then head over to the coastal area located between Tarifa and Punta Paloma, not to mention a great place down by El Porro. It may not count as a water sport but seeing the sunset is a perfect way to end a day when you head on down to Isla de Las Palomas (Dove Island) where you will see a spectacle of colours that flawlesly infuse into one another to create a unique experience for you to enjoy with friends and family.