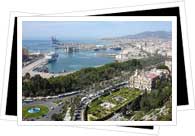 Magnificent. Monumental. Magical. As you experience this fascinating coastal city, you'll quickly see that these are words that only begin to describe Malaga. Like a lady hiding coyly behind her fan, Malaga invites you to further explore all it has to offer. Within minutes you'll agree that the journey of discovery in Malaga, a city that has adamantly preserved its old world charm while mixing in a cosmopolitan vibe, is a delightful pleasure in itself.
The poet Vicente Aleixandre described the city of Malaga as "a paradise between the sky and the earth." Sprawled along miles upon miles of coastline, the region of Malaga is a sunny haven filled with fascinating landscapes and breathtaking beaches. The city's unique geographical setting- nestled between two river beds and framed by the Malaga mountains- forms a barrier from the cold and yields Malaga's characteristically mild weather.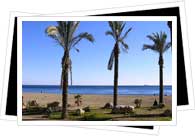 Located in the autonomous community of Andalucia, Malaga is the capital city of the Costa del Sol (Coast of the Sun). Founded by Phoenicians who originally called it Malaka (which means "fish salting place"), Malaga is now the 5th largest city in Spain. Its rich history spans over 3,000 years and boasts a heady mixture of Roman, Muslim and Spanish cultures- each of which naturally left behind their own distinct imprint. The result? A unique city filled with an enticing mixture of historical, architectural, and cultural attractions.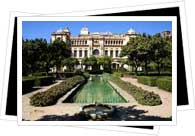 Malaga is filled with parks, bars, sun-baked buildings and narrow streets. Start with the street Calle Marques de Larios, which is surrounded by enticing plazas and streets, as well as the magnificent Malaga Cathedral. Amble through the areas of San Agustin and La Judería to experience the quaint tranquility of their Moorish-style streets. Then enter Plaza de la Merced, where you will find numerous museums and churches that attest to Malaga's post-reconquista Spanish presence.
The Plaza de la Merced is also the birthplace of Malaga's most famous son, the artist Pablo Picasso. Two museums in Malaga are dedicated to his art and biography: the Pablo R. Picasso Foundation- Birthplace Museum and the Picasso Museum of Malaga. Then head to the Gibralfaro hills, the oldest part of Malaga, for a lesson on Spanish history and culture thanks to the Roman amphitheater, the Malagueta bullring and the Alcazaba, an 11th century palace masterfully built by the Moors.
As if these were not enough, you can also immerse yourself in all sorts of recreational and sporting activities such as golf, horseback riding, tennis, and watersports. A shopping trip will lead you to the old-fashioned shops scattered throughout the town or to the world-class shopping in and around Plaza de Larios. For childlike delights, there is Tivoli World, a theme park with rides and attractions for both the young and the young at heart. Nature lovers, on the other hand, can get their fill of a vast array of flora in Malaga's numerous gardens and parks, amongst them the beautiful Alameda Gardens and Jardines de la Concepcion.
At sundown, another Malaga comes to life. It becomes a hive of activity set against the backdrop of the majestic Mediterranean coastline. Drink and dance the night away in the many "bares de copas" (cocktail bars) and night clubs that compose Malaga's animated nightlife. To spend a fun-packed night, check out the areas around the Plaza de Uncibay as well as the Calles (streets) Granada and Beatas, where you're sure to find a plethora of great places bursing with dancing, music and laughter.
Whatever you choose to do, this land of friendly people, lively flamenco dancers, diverse museums, lush gardens, rich architecture and proud bullfighters is sure to make your Malaga travels unforgettable.