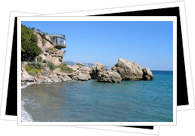 Introduction
The peaceful character of Nerja will certainly charm you with its stunning views and cultural activities just waiting to be explored. It has a strong British presence with around thirty percent of residents from the UK but don't panic, it still retains its traditional spanish vibe.
The scenery
Coming from Malaga to Nerja you'll want to know whats good, well a great starting place to get to grips with your surroundings is a trip up to Balcon de Europa meaning the balcony of Europe. Not a badly chosen name considering some of the captivating views you shall experience. It began its life as a Moorish castle and now serves a less defensive purpose. You shall get the snapshots of the mediterranean ocean that are surely to be cherished.
The next stop on the map is a prime example of the natural environment being mixed with the creativity of Nerja's population. Named Cueva de Neria they are a set of caverns which have been innovated to contain pieces of art that has a history of almost 20,000 years and the appropriately named 'Cave festival' is a consistently popular event with some exciting named invited. Finally a trip from Malaga to Nerja should be topped off with the Castle Bentomiz also known as Castillo de Betomiz. Its Islamic influence gives it a unique style, created in the 11th century it sadly isn't in the best condition but surely an interesting note to add to your journey.