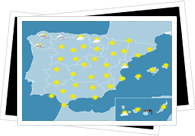 Malaga is blessed with typical Mediterranean weather. Summers are fairly hot while winters are generally mild and dry. Malaga's superior location ensures pleasant weather; the mountainous terrain and the warm Mediterranean coastline makes for mild weather practically the whole year round. With around 320 days of sunshine, any time is a perfect time to go to Malaga.
If you are in Malaga during the summer months, it is advisable to bring mostly clothes that will keep you cool. Summer temperatures can actually reach into the 30's (Celsius) but don't forget to bring a jacket for the cooler evenings and just in case you chance upon a cooler day. Due to low humidity, be prepared for a comfortable kind of heat- neither sticky nor sultry but just right.
Winters are still fairly mild and filled with sunny days with temperatures hovering around 16 degrees- certainly not cold, but definitely jacket weather!
Malaga Weather – Average Temperatures by Month
| Month | Maximum (°C/°F) | Minimum (°C/°F) |
| --- | --- | --- |
| January | 16 / 61 | 8 / 46 |
| February | 17 / 63 | 9 / 48 |
| March | 18 / 64 | 11 / 52 |
| April | 20 / 68 | 13 / 55 |
| May | 22 / 72 | 15 / 59 |
| June | 26 / 79 | 18 / 64 |
| July | 28 / 82 | 21 / 70 |
| August | 29 / 84 | 22 / 72 |
| September | 27 / 81 | 20 / 68 |
| October | 23 / 73 | 16 / 61 |
| November | 19 / 66 | 12 / 54 |
| December | 17 / 63 | 9 / 48 |