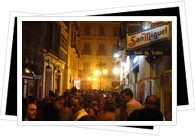 Malaga takes on a different face when night falls. With the cool Mediterranean air and the backdrop of the majestic mountains and coastline, there is plenty for you to do and explore – and you can do it well into the wee hours of the morning.
Shake your boody and dance to the groove in the bars and disco clubs that abound. Malaga's nightlife district can be found along the streets and squares of the Plaza de la Merced, the Plaza de la Constitucion, Calle Granada, Calle Alcazabilla, Calle La Malagueta and Calle Larios. Malaga comes out in full force (both the young and the young at heart) to dance the night away.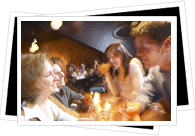 If you want a more relaxed atmosphere, there are places for peaceful retreat where you can enjoy a quiet evening with friends. You can kick back and listen to music, explore the city at night, relax on the park benches placed in the boulevards, and more. Many of such areas can bef ound in the areas of Pedregalejo, Limonar, La Malagueta and Paseo de Sancha.
There are also other activities you can indulge in; the Plaza Mayor or the Malaga Nostrum Leisure Center are just two of the places where you can enjoy a night in the cinema, the disco or the bowling alley. There are also regular exhibitions and presentations of flamenco and other live music.
Whatever you prefer, you will discover that Malaga is a place where fun and good times abound. What is guaranteed is that there is plenty of nightlife to be enjoyed in Malaga. Nightlife in Malaga starts late- around 11 p.m.- and lasts right up until daybreak. Come and explore Malaga at night!
Learn more!
-Bars
-Night clubs
-Gay Malaga