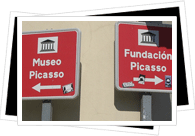 Malaga is the quintessential city of museums. With close to 20 museums, it is among the cities worldwide that have the highest density of museums housed in one city. Malaga has something for everyone to see, whether your tastes run from the religious to the mundane, the ancient and historical to the modern and avant-garde.
Chief of Malaga's pride and joy is, of course, the works of its most famous son – Pablo Picasso. In fact, there are two museums dedicated to his life and work – the Picasso's Birthplace Museum and the Picasso Museum of Malaga.
There is plenty to see and explore – Malaga has over 20 museums, 15 of which are housed in the same district. Come and see for yourself why Malaga could very well be called the City of Museums.