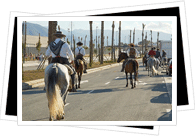 The fairs and festivals in Malaga is where the Malagueños' fun-loving and social spirit come to the forefront. Malaga goes all out in its celebrations and festivals. The common ingredients in Malaga's festivals are: music (lots of it, often given by murgas, or street musician bands), color (as can be seen in street and house decors and in the fancy dresses and costumes donned by the locals), and general merriment. In February, Malaga comes alive with the Carnival, which is Spain's answer to the Mardi Gras. There is much dancing and revelry to be had at this time of the year.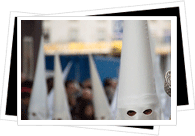 During the Semana Santa or Holy Week, Malaga dons a more contemplative and prayerful atmosphere, yet the scene is still full of color and music. Semana Santa has no fixed date, but may be celebrated either in March or April. The biggest festival in Malaga is held in August, when the city celebrates the Feria de Malaga. With colorful presentations, various activities, top-notch flamenco and colorful costumes, it's easy to see why people flock to Malaga from all over the world during the festival!
September is a time for honoring the Virgen de la Victoria, one of Malaga's revered patron saints. October might as well be re-named Picasso- you'll quickly see why! Picassian October focuses on celebrating the artist and his talent. December is, of course, the time for Christmas and New Year celebrations. In addition, there are feasts that honor the city's patron saints. The fiesta de San Juan and the fiesta del Carmen are two such fiestas.
Whew! That was quite a lot! With its cultural agenda jam-packed with festivals and carnivals, Malaga's party-loving habits are just one more reason to make a visit.
-Semana Santa in Malaga
-Feria de Malaga
-Arts Festivals in Malaga