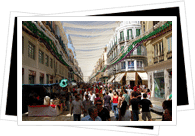 Feria de Malaga is a summer festivity that is full of color, music and merriment. The Feria traces its celebratory rooms back to its being a commemoration of the entrance of the Catholic Kings in Malaga following their victory over the Moors and reacquisition of the city.
During the Feria, Malaga's streets are filled to the brim with fun, food and festivities. There are festive "casetas" (essentially small party tents), booths serving local wines, and tapas to be found everywhere. The town squares are transformed into centers of entertainment – see the International Folklore Festival in Plaza de la Marina, the "Magic Fair" in Calle Alcazabilla (which is primarily geared towards children) or the Fiesta de Verdiales in Calle Larios and Plaza del Obispo. The La Malagueta Bullring hosts its best and most exciting bullfights of the season, while contests are held to test the Malagueño's horse-harnessing skills.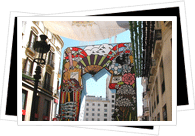 Ushered in by a grand spectacle of crackling fireworks and lively music, the feria opens each year at midnight on the third Friday of August. This is after the reading of the "pregón de la feria", which is held from the balcony of the Town Hall. The air is filled with the sounds of traditional music such as the verdial and the flamenco, which are performed by various artists along the streets of Malaga. The following day, pilgrims, with their horses and attractively adorned carriages and carts, set out on their pilgrimage to the shrine of Malaga's Patron Saint, Our Lady of Victoria. At the shrine, a pilgrimage mass is said.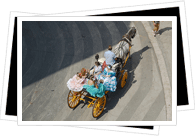 Come nightfall, locals and visitors alike proceed to the fairgrounds situated along the outskirts of the city center. At the fairground, located at Cortijo de Torres, more fun and entertainment awaits the feria-goer. There are plenty of "casetas" serving traditional Andalusian food and offering up impromptu music and dancing. Additionally, there are live music and dancing performances scheduled– be prepared to party until dawn with bands performing pop, reggae, rock, flamenco and other music.
The Feria is a weeklong event and will surely excite and exhilarate. With its lively music and dances, colorful costumes and wide range of entertainment options, the Feria de Malaga promises to be one event you will not forget.