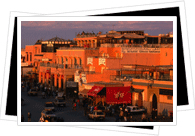 Introduction
A decision to go to Morocco will leave you with fond memories of this integrated multicultural wonderland. It is located in North Africa just south of Spain and is right next Algeria. You will do well to practise your Arabic (predominant language) and french as that will be widely recognized. It has a rich history being first inhabitated in 8000BC (enough to make anyone feel youthful) There is an absolute abundance of great things that tempt you to go to Morocco. There are several areas of interest in Morocco but here is a run down of some of the most popular places to be
Marrakech
The first place to mention is energetic to say the least and gives you a taste of what to expect from Morocco, Djamaa el Fna Square presents you with a set of market stalls that will accomidate your every need with all kinds of products on show. The rooftop cafes are a delight to spend a bit of down time to get those all essential energy levels back up, you will see a mixture of activity going on that is certainly unique to Morocco for example snake charming and trained monkeys! You will have to develop a sense of patience with the constant flow of people invading your picture perfect moment but this only adds to the character of this area. When hunger develops you can endulge in a range of grilled meats and exotic Moroccon tea to put the cherry on top for a great day out.
The Saadian tours of the tombs is a brilliant example of of a 300 year old Saadian architecture built by Ahmed the Golden that was unearthed in 1917. A brief tour will leave you with a lasting impression and compliments your knowledge of the Saadian period.
Fez
It is one of the oldest imperial cities named Fes el Bali, it is a fortress of high walls and life simply beams from the thousands of streets that create the maze that is Fez. Some of the main events to make a note of are the Fes festival of world sacred music. The medina is another great example of a set of marketstalls that are not to be missed similar to the set up in Djamaa el fna square. If leather is your thing then you will enjoy the tanneries which has a extensive range of several variations of the material ready for purchase, just be prepared for the smell that goes along with its preparation.
Casablanca
This is the place to go if your looking for a beach, the Ain Diab is a luxurious beach that is home to many sports played daily and a brilliant place to relax. It has earnt itself a reputation for not only a great beach but also the location where a 500 thousand year old skull of a humanoid was found (one of the oldest finds)