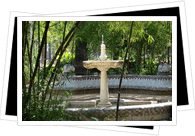 For those with a deep-rooted love of nature, Malaga does not disappoint. It boasts of an impressive legacy of botanical gardens that rival those to be found in the rest of Spain, and indeed, even in the rest of the world. The gardens house a wealth of botanical species, along with historical treasures – buildings and sculptures.
Malaga Park
Paseo Parque, 1 Malaga
This garden stretches from the Alameda Principal to the Paseo de Espana, parallel to Guadiaro Quay. Stroll across any of its three walkways, one on the north side of the garden and two on the south.
This garden is a superb example of how sunshine, tender loving green-thumbed care and exquisite flora mix into one delightful creation – man working together with nature.
El Retiro Gardens
Ctra Coin s/n, Malaga
The El Retiro Gardens is also one of the most significant gardens not just in Malaga, but also the entire Spain. Known originally as the Santo Tomas del Monte Estate, this was formerly owned by the Bishop of Malaga, way back in 1523.
La Consula Gardens
Carretera de Coin
The gardens belong to the estate of the same name. The garden was designed and built in the French style. A wide variety of botanical species grow luxuriantly in this garden – yucca, monkey puzzle, jacaranda, palm and other Mediterranean tropical plants.