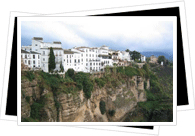 Introduction
Ronda has earnt itself a top three position alongside Granada and Sevilla for the top tourist attractions, upon your first view you will realise that it is an old town therefore it will have developed a lot of character. You should free the time up in your diary now because there is an abundance of activity in and around Ronda.
Begin the tour
It is credited as the birthplace of the new era bullfighting if that is your style, though if your looking to find a stunning view then a great place to head is Puente Nuevo (New bridge) this will leave your camera in love with the vast landscape of Serrania de Ronda mountains. If you want to add a religious touch to your trip then take part in the Romeria pilgrimage which is the story of a drought that was saved over 500 years ago due to prayers to the particular monastery.
Museums
There is a great choice of museums for you to endulge in, first of all head down to the charming City Museum, it is broken down into three sections (History, Ethnography and Environmental) With sections such as Ancients Ronda, Megalithic world, Cork's work and th natural park of sierra de las nieves. The second is the Lara museum, it has a impressive collection of 18th century clocks and wine cellars and 17th century weapons just to name but a few.