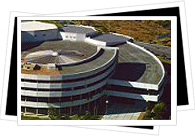 Malaga is not just a city of traditions and history– it is also forward-looking and highly developed. It is not just a city full of historical and archeological treasures but also a bustling seaport. It is a modern, highly industrialized commercial area- in fact, Malaga is the business center of all of southern Spain.
Malaga has a Technological Park and International Congress Center that is outfitted with the trappings of a truly modern society. National and international companies are housed in this area.
As the gateway to the Costa del Sol, Malaga is fully equipped with infrastructure that supports its tourism industry. Malaga's international airport is the largest in Spain. Malaga also has ports, highways and bus and train stations that link Malaga with the rest of the world. Hotels, ranging from the luxurious to the "best on a budget," dot the city.
All in all, Malaga is a fascinating place in which you can take stock of the historical and the cultural without having to forego your modern creature comforts. Compare it to stepping back in time but with all the modern gear strapped in.
Learn more!