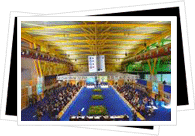 Highlights:
Calle del Marqués de Larios
Trade Fairs & Conference Center
Although Malaga has a lot to offer aside from its cultural, historical and architectural gems, it is actually also a very modern city. It has top of the line facilities to support the influx of tourism throughout the Costa del Sol. You won't even miss the "pleasures at home" because you can readily find them in Malaga.
Step into the street Calle del Marques de Larios, where you could shop till you drop in stores carrying both international and local brands. On the Malaga outskirts, you could also visit major shopping centers, or "centros commerciales." These are complete with cinema complexes, fast food outlets, fashion stores and cafes. Plus, if you're not tired from all the shopping, go straight to Malaga's modern night club scene.
Speaking of modern, Malaga built the Trade Fairs and Conference Center, a center equipped with state of the art equipment. The building itself also serves as an example of modern architecture as it depicts a recreation of the Mediterranean Sea.