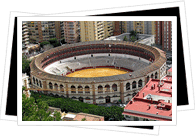 Malaga is truly blessed. With the backdrop of the Mediterranean Sea and the Malaga mountains, excellent weather is to be had all year round. It is great weather to relax in and it also makes for ideal conditions where you can enjoy sports activities all year round.
If you are the sporty type, you will soon see that there are all sorts of sports activities for you to enjoy. Malaga's sports scene is alive and thriving.
If you are more of the spectator type, don't fret. Malaga's sport scene is one good entertainment option. Get caught in the sports fever and cheer the players on as they dribble, putt, and shoot their way to victory! Visit the La Malagueta bullring for a taste of the age-old tradition of bullfighting or the stadiums for football and basketball tournaments. As for golf, go and see for yourself why Malaga is often dubbed the Costa del Golf (Golf Coast)!
Learn more!