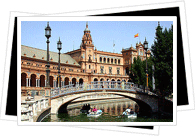 Introduction
There are many ways you can describe the vibrance of Seville, it is a hub of artistic and cultural heritage and the financial capital for the southern part of Spain. It has been inhabited for over 2000 years so your sure to see the past of this exciting city to be integrated into the daily life. Originally home to the Romans when it was known as Hispalis and the locals of Seville have miraclously recovered their economy amongst other things after a big part of the population was wiped out by the great plague.
Now to the sights
The main place to check out is the Cathedral of Seville, its construction began in 1401 and is one of the largest gothic cathedrals and the 3rd largest cathedral in the world. It was created to demonstrate the wealth that Seville had and intended to incorporate into the city. It was formally a Mosque where the Minaret (the dome on top) was converted into a bell tower which is rather resourceful. If your in Sevilla to find some exquisite examples of the artistic talents then the Fine art museum is for you it ranges its pieces from the medieval to modern and includes artists such as Francisco de Zurbaran and Juan de Valdes Leal.
The Parque Maria Luisa is a delightful park that infuses the impressive range of vegetation and clear pathways for an enjoyable stroll with the vast scenery. It has monuments scattered round and will present you with a perfect place to pop down on a solo trip or with your friends and family.
Finally a word on El Centro, if you head towards the streets of Sierpes, Tetuan and Velazquez you are sure to be surrounded by a variety of shops that will meet all of your shopping needs whether it be a much neeed souvenir or just to endulge in a bit of retail therapy.