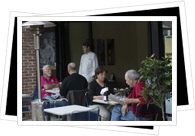 Bars boasting lively music, delicious cocktails and even sweet wine straight from the barrel about in Malaga. Much of the fun in exploring Malaga is discovering what it has to offer in terms of bars and pubs. Malaga's bars are scattered all throughout Malaga- check out the Calle Larios area, El Palo, Pedregalejo and anywhere else you hear music and laughter!
The bars in Malaga are always in "party" mode because of the locals and tourists that keep the atmosphere lively and animated. You'll quickly see that it's nearly impossible not to have a great time when you have a lot to keep you entertained! Malaga's bar scene in itself is already a varied and enriching experience, as they serve as meeting points where people can congregate and chat while nursing a glass of beer and munching on some tapas.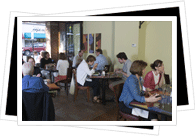 Café-Concierto Puerta Oscura
Molina Lario, 5
The perfect place to meet with friends in an intimate setting. The small private alcoves decked in the 19th century style is the place where you can sit and relax with your friends, for a quiet evening filled with live chamber music. This café also becomes a venue for exhibitions and debates during festivals.
El Cantor de Jazz
Calle Lazcano, 7
Jazz enthusiasts, gather here! Every Thursday is live jazz time.
Mooncity
Reding, 6
Live flamenco shows are its top draw. Mooncity has a relaxed and friendly ambiance in which to enjoy these live shows.
O'Neill's Irish Pub
Calle Luis del Velazquez, 3
Leave it to the Irish to put up a trendy place with Irish music and beer. Cheers!
Onda Passadena
Gomez Salazar, s/n
Live presentations of jazz and flamenco are performed here regularly. It's the best way to relax while nursing a cocktail.
Vista Andalucia
Av. De los Guindos
Ole! Dance to the lively beat of flamenco all night long!
ZZ Pub
Tejon y Rodriguez
Live bands regularly play a great selection of music. You will find the university crowd gathering here regularly.
Abisinia
Calle Beatas
Fraggle Rock
Comedias 10
La Bodegas El Pimpi
Calle Granada 62

La Posada
Calle Granada 33
Onda Pasadena
Calle Gomez Pallete 5
Mondo Tike
Calle Mendes Nunez
Picasso Bar
Plaza de La Merced, 20