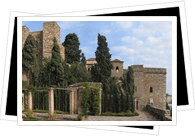 Moorish occupation (which lasted in some parts of Spain until the end of the 15th century) ushered in a golden age for Malaga. Malaga grew into a merchant center, one of the biggest in the Iberian Peninsula. This golden age can be seen in the majestic buildings that bear testimony of the Moorish presence in Malaga. The most important examples of Moorish architecture would be the Alcazaba and the Gibralfaro Castle. You may also take a walk along Malaga's back streets, which is distinctly Moorish in character. There are also numerous examples of Moorish architecture, such as in the whitewashed houses and the Atarazanas Market, which used to be a mosque and has the Arab-style horseshoe-shaped arches.
The Malaga Alcazaba (which means "walled city" in Arabic) was built as the major military defense installation of the Moors. It has numerous defense towers and a double wall.
The Gibralfaro Castle is just above the Alcazaba. Construction began in the 8th century but its finishing touches were completed in the 14th and 15th centuries. The Gibralfaro Castle provides breathtaking views of the city below.
These two are great reminders of Moorish rule in Malaga and should be on top of your "to visit" list.
You can also see variations of Moorish architecture: Mudejar (which was developed by Muslims in Christian areas) and the Mozarabic (which was developed by Christians in Muslim areas). Most of the architectural examples of Moorish architecture in Malaga are predominantly in the Mudejar style. This involves the use of brick in the structures and the incorporation of ornately carved ceilings.