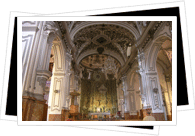 Gothic architecture features pointed arches and flying buttresses, two features incorporated to enable the construction of bigger and more stately structures. Otherwise, Gothic architecture generally features simple structures embellished with glass, sculptural detail, and soaring columns.
One example of Gothic architecture in Malaga is the three-naved Iglesia de Santiago, which is Malaga's oldest church and stands majestically along the Calle Granada. Built in 1490, the cathedral is a mixture of the Mudejar and Gothic styles. Interesting tid-bit: this is the church where the great artist, Pablo Picasso, was baptized.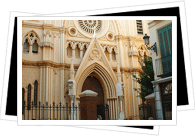 Another example is the Iglesia de San Juan, which is also made in the Mudejar-Gothic tradition. It used to have the Gothic trademark – pointed arches - until the mid-16th century, when the pointed arches were converted to round arches. The Iglesia del Sagrario boasts of an imposing late Gothic doorway. This chapel was the first Catholic chapel built after the Catholic Kings conquered Malaga from the Moors. The entrance to the church, a lovely vestibule, is said to be among the best examples of Isabelline-Gothic architecture. Inside, you can see the work of the artist Juan de Balmaseda in the the main altar.
Of course, the most famous example of the Gothic style would be the Cathedral of Malaga (La Manquita). Built on top of a former mosque, it was initially built with Gothic design in mind. The project, however, was abandoned in 1525 and took several eras to complete- to almost complete, that is.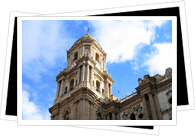 Even today, it is not completely finished, as one of the towers was not completed, thus, the nickname, La Manquita (which means "one armed"). Several undertakings were done to complete the cathedral. As a result, it is a unique and interesting hodgepodge of Gothic, Renaissance. It was in 1782 that work on this Cathedral came to a definitive halt; today, it remains unchanged.