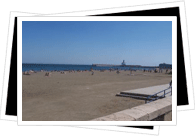 Life's a beach. This is even more true in Malaga, which is blessed with miles upon miles of coast and an abundance of beaches.
-Banos Del Carmen Beach
You can get to the beach from the Buena Vista Estate, which is located between Paseo Picasso and Paseo Pedregalejo. Just west of El Palo, this beach is ideal for fishing and having picnics – it has a nice wooded area close by. Its beachfront is approximately 320 meters long.
Facilities: A restaurant, wooded park, parking garage, security and lifeguards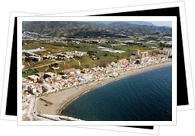 -Caleta Beach
La Caleta is a wonderful spot to enjoy your place in the sun. It is by far the most favorite beach for locals. It is well maintained and ideal for families. You can indulge in some watersports, such as speedboat racing and windsurfing. You can also enjoy the famous pescaito frito in the chiringuitos (seaside cafes) lining the beach. It boasts of a wide beachfront – approximately 1400 meters and can be found alongside the Paseo Maritimo de Pablo Picasso.
Facilities: Chiringuitos, showers, cleaning service, sun loungers, beach umbrellas, and access for the disabled.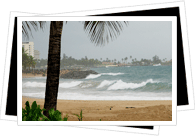 -El Candado Beach
If you want to do some windsurfing, snorkeling, diving or sailing, El Candado is a good choice for you. It is a wide and spacious beach (approximately 550 meters wide) and is protected by two water barriers. It also offers a good view of the coast.
Facilities: Hammocks, sun loungers, play area and park, beach umbrellas, freshwater showers, parking, a couple of basketball courts.
-El Palo Beach
Great views, great fishing, the sun on your back and the wind blowing on your face – what more could you ask for? El Palo is another favorite of the locals – it is U-shaped and affords a good view of the rest of the coast. It is also a favorite haunt of fishermen and scuba divers. It hosts the Jabegas or the Dragnet competition, which is one of the most traditional contests in Malaga. The beach also becomes a focal point in the celebration of the feast of the Virgin del Carmen, the patron saint of fishermen. It is a long beach, with a good 1,800 meters in length (coastline).
Facilities: Access for the handicapped, sun loungers, beach umbrellas, hammocks, toilets, showers, parking area, rentals for watersports, bars, telephones
-Guadalmar
Its main attraction is its natural beauty, which has been left virtually untouched by urbanization. Located at San Julian Guadalmar, at km 232. Its coastline is 3500 long, extending from Los Alamos and the Guadalhorce River. It has a nudist zone and a golf course close by.
Facilities: Showers, toilets, access for the disabled, loungers and umbrella rentals, news-stands, lifeguards
-La Arana Beach
This beach has a big rock, the Rocal de la Paloma, where fishermen can settle down as they wait for the fish to bite. This beach is nestled between the Torre Paloma and the Cala Moral.
Facilities: chiringuitos, showers, loungers, parking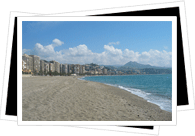 -La Malagueta Beach
Located at the heart of Malaga City, this beach is very accessible. Thus, it is a favorite among locals and tourists alike. This beach is near the La Malagueta bullring and is a man-made beach. Its 1,200 meter long coastline is filled with sand imported from the Sahara Desert. It is a good place for biking, jogging, strolling or just simply lazing in the sun. It has lots of restaurants and chiringuitos, where you can enjoy Malaga's famed seafood delights.
Facilities: Chiringuitos, rentals of watersports equipment, showers and toilets, security and first aid team, lifeguards, parking, access for the disabled, loungers, beach umbrellas, phones
-La Misericordia Beach
If you are into windsurfing, sailing, kite flying, this is the beach for you. Its wide coastline allows for various kinds of beach sports. Located at the mouth of the Guadalhorce River at the outskirts of Malaga, it is a quiet, simple and unassuming beach, but it offers great views of the coast.
Facilities: Parking, showers, fishing facilities, chiringuitos, bins, loungers, newsstand, access to the highway, bus stop
-Pedregalejo/Las Acacias Beach
One of the popular beaches in Malaga, not just for its coastline but also for the numerous chiringuitos and restaurants that serve mouthwatering Malagueno food. It can be accessed via the Paseo Maritime de Pablo Picasso. It is so named after the estates of Pedragalejo and Acacias, upon which the beach is nestled. At nighttime, it is one of the favorite haunts of party-goers.
Facilities: Chiringuitos, loungers, beach umbrellas, playground, phones, bins, ramp access, access for the handicapped, hammocks
-Penon Del Cuervo Beach
West of the Torre Paloma, it is sheltered by two sand spits. It is quiet and laidback.
Facilities: picnic areas, bike lane, promenade, parking, playground
-San Andres Beach
Can be accessed via the Antonio Machado Paseo Maritimo. It is quite long – 2800 of dark sanded coastline. Although located in the outskirts of Malaga, away from the city center, it still draws a large crowd, especially during the summers and on Sundays. It can be accessed from the Antonio Machado Paseo Maritimo. The beach extends from the Port of Malaga and the Guadalhorce River. Its wide coastline allows for a variety of beach sports – windsurfing, kite surfing and kite flying, sailing and fishing. Chiringuitos line the beach, fulfilling the appetite you worked up swimming with Malagueno delicacies.
Facilities: Access to the bus, access for the handicapped, toilets and showers, playgrounds, footbaths, cleaning services, chiringuitos, hammocks, loungers, water bikes security
-San Julian Beach
Standing beside the Parador National and a golf club, this beach extends to 3,500 meters from the Guadalhorce River and the Los Alamos. If you want to escape the madness of city life for just a while, this quiet beach is for you.
Facilities: Parking, bus stops, first aid, chiringuitos, loungers, beach umbrellas, newsstands, cleaning services, access for the disabled.