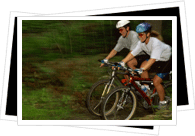 With Malaga's near perfect weather, you can comfortably keep fit by jogging and biking. The ideal places to do these activities are along Malaga's numerous beaches, chief of which is La Malagueta.. It is very near the city center and you can spend quiet mornings or pleasant afternoons jogging or biking there.
Biking is an enjoyable (and cheap!) way to explore the city and its surroundings. This is a great chance to enjoy the wealth of sunshine in Malaga, especially by hitting up the beach promenades which are equipped with special bike lanes.
Always remember to use your bikes with caution and use designated lanes whenever possible. It is NOT a safe way to move around motorways and main roads. Bikes are absolutely not allowed on the A-7 motorway and the N-340 motorway.