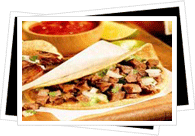 Whether you crave a taste of home or have a hankering for something aside from traditional Mediterranean fare, Malaga offers many choices to the international diner. Chinese, Vietnamese, French, and Italian are just some of examples of international cuisine to be had in Malaga.
Here is a list of some international restaurants in Malaga, Spain:
Restaurante Arabe Al-Yamal
Calle Blasco De Garay, 7
Spicy and tangy. Traditional Arab food is served here, including couscous, spiced meats, and others specialties.
Cantina Mariachi
Larios Center, Av. De la Aurora, 21
Fast service, food and beer, served Mexican-style.
Gran China
Calle Babel, 1
Ciudad Nan Hai
Calle Compositor Lehmberg Ruiz, 4
Dalli's Pasta Factory
Paseo Reding, 43
Europa Y Asia Calle
Maestranza, 8
Pizzeria O Mamma Mia
Avenida Pries, 13
Adolfo
Paseo Maritimo Pablo Ruiz Picasso, 12
Café de Paris
Velez de Malaga, 8
El Balneario
Banos del Carmen
Mar de Alboran
Av. Alay, 5