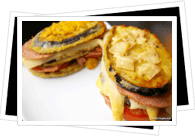 The fact that Malaga is an Andalusian city simply means that there is no shortage of good tapas bars in Malaga. A great way to enjoy Spanish cuisine without cleaning out your bank account, this delicacy consists of virtually anything – beef, chicken, jamon, cheese, olives, prawns, etc. – and can be had in bars and restaurants throughout Malaga.
"Tapeo" time is socialization time in Malaga; it is a time for you to stand at the bar, chat with new-found friends and enjoy a glass of beer or wine. So check out the bars below and remember: if you're looking for tapas bars, big crowds are a positive sign!
Rincon de Mata
Esparteros, 8
Tapas here include caracaoles or snails, gambas or fresh prawns and jamon (ham). Offerings are priced affordably and tapas can be had for as little as 1.20 euros.
Taperia Siglo XXI
Plaza de la Marced, 12
This tapa bar serves excellent Serrano ham and local cheeses.
Café con Libros
Calle Granada, 63
A favorite hangout of students, you can sip coffee whilst reading a good book or playing backgammon.
Bar Loqueno
Calle Maria Garica, s/n
This bar has a wide and varied range of tapas offerings (there are more than 75 to choose from!). Prices are delightful as well, as a serving of tapas may be had starting from just 1.50 euros.
Gibralfaro Bar
Pasaje de Chinitas
Watch flamenco performances live in this bar. It is located in a pathway leading to the Cathedral. The choice of tapas may be a bit limited but its lively atmosphere more than makes up for it.
Gorki
Calle Strachan
Orellana
Calle Moreno Monroy 5
La Manchega
Calle Marin Garcia 4
Meson de Jamon
Plaza Maria Guerrero, 5