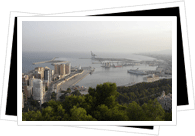 With the Mediterranean providing Malaga with livelihood, inspiration, recreation, and economy, the seaside city's ties to the sea are both deep and vital. Over the course of the city's history, the sea transformed Malaga into a thriving port and a significant player in trading operations during the 19th century.
Malaga's harbor is one of the major ports of call for tourist cruise ships, welcoming into Malaga some of the world's prestigious liners. The lavish Queen Mary II, for example, is known to have set anchor in Malaga. To get to Malaga from various points in Europe and the world, you may inquire from tourist liners that serve the Malaga Harbor.
There is also a ferry service that daily serves the route from Malaga to Melilla, a Spanish city located on northern Morocco's Mediterranean shore. Additionally, a ferry runs a summer route Malaga to Tenerife (Canary Islands) once every week.
Other Information:
Telephone: 952125012 (Port Authorities)
Webpage: www.puertomalaga.com