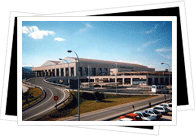 Malaga Airport is sprawled across 273 hectares of land. This bustling airport has three terminals, which usher in tourists to the Costa del Sol.
Terminal 1 is the original terminal, catering mostly to internal Spanish flights. Terminal's 2 and 3 service passengers to and from around the world. There is also another terminal for private flights. Filled with modern and state-of-the-art equipment, the Malaga Airport is considered one of the best and biggest in the world.
The Malaga Airport also has a bustling commercial area. You can take your pick from the wide selection of restaurants and bars. There are rest areas, automatic bank tellers, internet services, a children's play zone, a pharmacy and a post office. Plus, each month renowned artists from the Andalusian region display their artwork in the airport halls for your visual pleasure. There is also General Aviation museum nearby.
Malaga Airport is only 8 kilometers away from the city center. Also, transportation from the airport to the city is easily arranged. There are also train and bus services to key destinations such as Malaga City, Fuengirola and Marbella. Taxis are also in abundance. You may also hire rental cars directly from the airport.
Additional Information
Address: Avenida Garcia Morato, s/n, Malaga
Telephone : 952048484; 952048838 (Arrivals); 952048804 (Departures)
Webpage: www.aena.es
Train Service
Every 30 minutes, a train leaves for Malaga City Center and Fuengirola. The train station is outside of terminal 3, on a lower level.
Bus Service http://www.puertomalaga.com
Bus 19, bound for Malaga City Center, leaves every 30 minutes. It goes directly to Paseo del Parque, passing close to the bus and train station as well as stopping on the city bus road, Alameda Principal. Another bus bound for Marbella leaves the airport every 45 minutes (90 minutes during the winter). The bus station is right outside the Terminal Two arrivals hall.