If you prefer to drive around the city and its surroundings, you can rent a car from any of the car rental companies you can find in the airport and throughout the city cenAter.
Some pointers when driving around Malaga:
1. Be mindful of your valuables. Do not leave them lying around the car.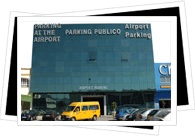 2. Do not leave the car unattended for too long, as this may pose a temptation to petty thieves.
3. Also, hide marks or stickers bearing the car rental company's name and logo. Again, this is an invitation for petty thieves.
4. Traffic flow can get heavy during rush hour (7 until 10 o'clock in the morning and around 8 o'clock in the evening), so be sure to leave before or after these times to avoid traffic.
Car rental companies in Malaga:
Airport Parking S.L.
Airport:
Av Comandante Garcia Morato, 1
Telephone: 952235852
Webpage: airport-park.com
Atesa
Airport:
Av Comandante Garcia Morato, 1
Telephone: 952048505
Train Station:
Cl Explanada De La Estacion, 1
Telephone: 952356550
Webpage: www.atesa.es
Avis
Airport:
Av Comandante Garcia Morato, 1
Telephone: 952048505
In Malaga:
Av Aurora, 27
Telephone: 952048483
Webpage: www.avis.es
Car-Gest
Airport:
Av Comandante Garcia Morato, 32
Telephone: 952221194
Crown Car Hire
Av Comandante Garcia Morato, 34 (Airport)
Telephone: 952173520
Webpage: www.crowncarhire.com
Europcar
Airport:
Av Comandante Garcia Morato, 1
Telephone: 952048518
Train Station:
Cl Explanada De La Estacion, 1
Telephone: 952356512
Hertz
Airport:
Av Comandante Garcia Morato, 1
Telephone: 952233086
In Malaga:
Cl Cuarteles, 66
Telephone: 952356202
Webpage: www.hertz.es
Holiday Car Hire
Airport:
Av Comandante Garcia Morato, 20
Telephone: 952242685
Webpage: www.holidaycarhire.com
Larios Car Hire S.L.
Cl Maestro Guerrero, 6
Telephone: 951092069
Webpage: www.larioscarhire.com
Niza Cars S.L.
Airport:
Av Comandante Garcia Morato, 44
Telephone: 952236179
Webpage: nizacars.es
Pepe Car
Airport:
Av Comandante Garcia Morato, 44
Telephone: 807414243
Webpage: www.pepecar.com
Prima Rent A Car
Calle Ildefonso Marzo, 9
Telephone: 952310975
Webpage: www.rentacarprima.com