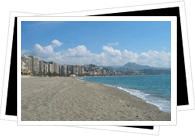 The beaches of La Malagueta is not just a place to soak up the sun. It also is a great place to soak up some of Malaga's culture. La Malagueta and the La Malagueta bullring plays host to a variety of Malaga's fairs and festivals.
During the Feast of St. John, the beach is filled with "juas," large cloth figures filled with sawdust and paper. These are set on fire in bonfires placed along the beach. When the fires show signs of dying down, risk-takers start jumping over the flames while the less adventurous continue to dance around the bonfire. This can continue until daybreak. There is even a legend that anyone swimming or washing his face with sea water on the night of San Juan will be gifted with eternal beauty.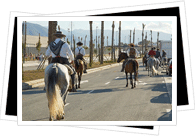 Also, the Feria de Agosto caps its celebration with a grand fireworks display at the beach. The August fair is one of the largest fairs in the entire Costa del Sol.
Ole! What better way to soak up on Spanish culture than to go to a bullfight? While, according to many, it may not be the most politically correct activity, it is nevertheless a major part of Spanish culture. If you are up to it, see for yourself why it is considered to be one of Spain's greatest traditions- or at least visit the bullfight museum to learn more! Plus, the La Malagueta bullring also serves as a venue in which international and local artists occasionally hold their concerts and events.