Highlights:
Ciudad de Melilla promenades
Plaza de Toros la Malagueta (La Malagueta Bullring)
All the delicious pescaito frito you can eat!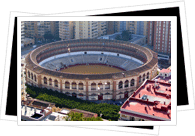 The La Malagueta beach is a major tourism location. The best part about this particular beach is that it is right in the city. One moment you are delving in the cultural and historical offerings of Malaga and in the next you could just be unwinding in a sandy paradise.
Great work has been done to improve the beach's services and infrastructure. It is now equipped with a wide range of facilities such as sunbeds, parasols, showers, toilets and lifeguards. You can also naturally indulge in simple pleasures such as lazing in the sun, paddling through the warm sea water, jogging, or people-watching. If you're looking for a little more action, you may get involved with active activies such as watersports, biking and football.
Dotting the coastline of La Malagueta you'll find numerous bars and cafes (chiringuitos) serving up delectable offerings of seafood, the most famous of which is the "pescaito frito," a plate of various fried fish.
Also take time to visit the seaside promenades in Ciudad de Melilla, not far from the La Malagueta area. With its bars and terraces, you can party with locals and tourists while the rhythmic waves of the sea complement the beat of the music.
Close by is the La Malagueta Bullring, home to one of Spain's undoubtedly grandest traditions. This majestic 16-sided edifice was designed by Joaquin Rucoba and also houses the Antonio Ordoñez Bullfighting Museum, where you can gain fascinating insights into the history and culture of the bullfight. Built in the Neo-Mudejar style, the bullring has a seating capacity of 15,000 and has been witness to bullfights of Spain's most celebrated bullfighters, amongst them Curro Romero, El Cordobés and Manolete.