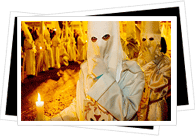 At Malaga Center, the night air is almost always filled with the sounds of laughter and music, especially the flamenco and the verdiales. In fact, there is always something happening in Malaga!
Come Holy Week (Semana Santa), Malaga Center comes alive with color and sound. Even the air vibrates with the rhythmic beating of the drums and the singing (or more like wailing) of the "saeta." Magnificent floats carrying precious religious sculptures draped in velvet and gold and finished off with candles and an indeterminate amount of flowers are sights to behold.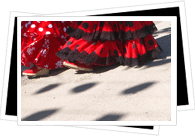 Summer ushers in the Feria de Malaga, which is the second largest fair in all of Europe. The city streets fill with processions and dancing while casetas (like temporary bars) are erected to showcase exhibitions of flamenco music and dancing.
Soak up on the rich culture of Malaga's center with the following:
Theaters:
-Teatro Cervantes
-Recinto Eduardo Ocon
-Teatro Alameda
-Teatro Canova
Festivals:
January – Festival of the Three Kings
February – Contemporary Music Festival, International Theater Festival, Malaga Fantasy Film Week
March – Malaga Film Festival
April – Holy Week
May – Malaga Book Fair
June – Malaga Antique Music Festival
July – Ethnimalaga (Malaga's ethnic music festival)
August – Malaga Fair
October – Picassian October, Malaga Flamenco Biennial
November – Malaga International Jazz Festival
December – Ritual Malaga. The Languages of God