Highlights:
The Malaga Alcazaba and the Alcazaba Archeological Center
Malaga Cathedral and Cathedral Museum
Plaza de la Merced
Picasso Foundation
Picasso Museum
Gibralfaro Castle
In Malaga, tourism is on the upswing. There is so much to do here that you will be hard-pressed to choose where to start and what to do first!
Mind you, these are just the highlights. In Malaga's city center, you can find so many treasures that say a great deal about the culture of the city. There are so many things to see that it will take you the whole day to explore these highlights and the surrounding sights. These highlights will give you a glimpse of Malaga's historic and artistic heritage.
The majestic Malaga Alcazaba is a major landmark which dates back to the 8th century, although most of its structure was actually built during the 11th century. Serving as both a fortress and castle, the Alcazaba was the seat of Malaga's Moorish leaders who were governing at the time.
The Malaga Cathedral is also nicknamed "La Manquita." Meaning "one-armed," La Manquita's south tower has yet to be finished. Inside you'll find 42 sculptures by renowned artists of Malaga and two magnificent organs that hail from the 19th century.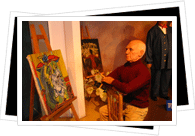 Plaza de la Merced's claim to fame is that it is the birthplace of Malaga's most famous son: Pablo Picasso. This is where you will find the Picasso Foundation and several architectural points of interest. Go just a bit further and you will arrive at the newly finished Picasso Museum, which houses 155 works of the great artist.
To cap this all off, visit the Gibralfaro Castle; the panoramic photo opportunity from the top will make for a splendid souvenir of your visit to the city!